• Format
The Championships comprise the following events:
• Zimmermann Cup. A great Teams Tournament of one week, with three days of qualification (swiss movement) and four days of Knock-outs… And of course, an impressive prize-list!
• FMB Trophy. For those who didn't qualify for the Knock-out phase of the Zimmermann Cup, or for those who just wish to play a great team event, two days of qualification and two days of finals… and of course, a great prize-list!
Apart from the prizes, EBL Masterpoints will be awarded for both events.
• Prize List
ZIMMERMANN CUP

EBL Gold, Silver and Bronze Medals will be awarded.
Trophy The winning team of this event will receive the Zimmermann Trophy.
EBL Masterpoints

Cash Prizes

Winner: 30.000 Euros
Second: 25.000 Euros
Third: 15.000 Euros
Fourth: 10.000 Euros
5th to 8th: 3.000 Euros each
9th to 16th: 1.200 Euros each

FMB TROPHY

Fédération Monégasque de Bridge
Gold, Silver and Bronze Medals will be awarded.
EBL Masterpoints

Cash Prizes
Final A

Winner: 8.000 Euros
Second: 6.000 Euros
Third: 5.000 Euros
Fourth: 4.000 Euros
Fifth: 3.000 Euros
Sixth: 2.000 Euros
7th to 8th: 1.000 Euros each
9th to 12th: 600 Euros each

Final B

Winner: 4.000 Euros
Second: 2.500 Euros
Third: 1.500 Euros
4th - 5th: 1.000 Euros each
Special prizes for best Women, Seniors and U26. The ZC and FMB Trophy prizes are cumulative but the special prizes are not. The prize purse may be increased if the participation is bigger than expected.
• Programme
Date
Event
Saturday February 17
Zimmermann Cup (Swiss Qualification Rounds 1-5)
Sunday February 18
Zimmermann Cup (Swiss Qualification Rounds 6-10)
Monday February 19
Zimmermann Cup (Swiss Qualification Rounds 11-15)
Tuesday February 20
Zimmermann Cup (Round of 16)
FMB Trophy (Qualification Rounds 1-3)
Wednesday February 21
Zimmermann Cup (Quarterfinal)
FMB Trophy (Qualification Rounds 4-6)
Thursday February 22
Zimmermann Cup (Semifinal)
FMB Trophy (Final A & B)
Friday February 23
Zimmermann Cup (Final)
FMB Trophy (Final A & B)
• Conditions of Contest
• Entries - Registration
Entries to the events should be submitted electronically only via the EBL Website (not by email) latest two days prior to the starting date of the respective event. Later entries will be accepted only if technically convenient.
Bridge players from all WBF zones are entitled to participate in the Championships provided they are members in good standing of a National Bridge Organization (NBO).
To be eligible for participation in the European Winter Games a player must comply with the EBL Rules & Regulations and the EBL Eligibility Code under the control of the EBL Credentials Committee.
Entries received will be automatically forwarded to the NBO of each proposed player, and are subject to their NBO's approval. Cancelations for reasons of force majeur shall be made at the earliest opportunity and the entry fee will be refunded. "No Shows" without valid reasons are subject to sanctions at the discretion of the EBL. Withdrawals of accepted entries are subject to the same deadline.
• Entry Fees
Entry fees are to be paid by bank transfer only.
From French or Monegasque accounts: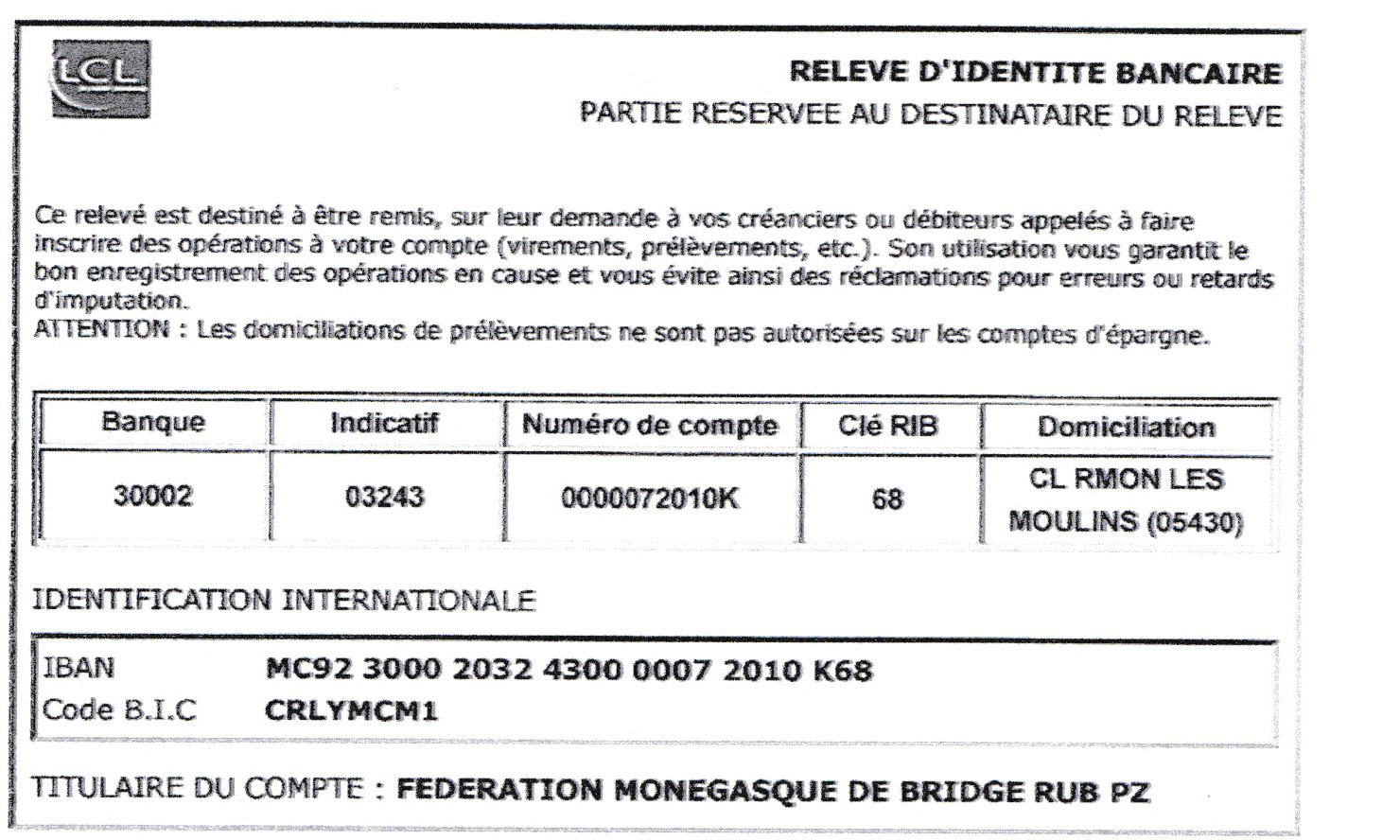 From International accounts:
Receiving bank: Credit Lyonnais, Monaco
IBAN: MC92 3000 2032 4300 0007 2010 K68
BIC: CRLYMCM1
Beneficiary: Federation Monegasque de Bridge RUB PZ

Important: It is imperative that you state your, team name, as per your Registration, as a reference
in the payment instructions.
For registrations after February 14, 2018, if accepted, payments are to be made in Euro cash
- no credit cards accepted - at the venue prior to the start of the event.
Event Entry fees

| | |
| --- | --- |
| Zimmermann Cup + FMB Trophy | € 1.250 |
| FMB Trophy Only | € 500 |
| Special entry for Women Teams: Zimmermann Cup + FMB Trophy | € 750 |
| Special entry for U26 Teams: Zimmermann Cup + FMB Trophy | € 500 |