Monica Buratti and Carlo Mariani earn first place for home country silver for France - Bronze for Russia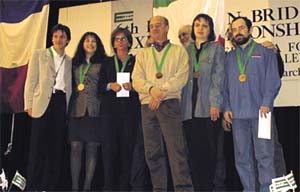 Far from feeling the pressure of being in front, the overnight leaders put together a 64.42% score to win the second session and with it the gold medal for the host nation.
Congratulations to Monoca Buratti and Carlo Mariani. The silver medal was won by Marlene and Michel Duguet of France and the bronze by Elena Maitova and Tim Zlotov of Russia.