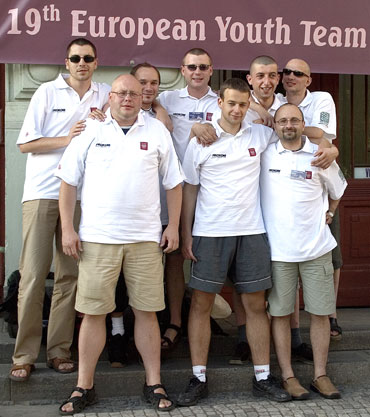 The new European Junior Champions are Konrad Araskiewicz, Krzysztof Buras, Jacek Kalita, Krzysztof Kotorowicz, Piotr Madry, Wojciech Strzemecki and npc Marek Markowski.
EASY VICTORY IN JUNIORS

POLAND scored a great victory when they won the Junior series of the 19th European Youth Team Championship, held in Prague, Czech Republic, 1-11 August 2004.
The Polish team started the race strong and finished stronger. Although it appeared to be threatened by some other strong contenders from time to time, they had a rather easy run and at the end simply confirmed what many people had anticipated: that they are the indisputable leaders in European Junior bridge today.
This was Poland's first victory in the Junior series since 1982. However, the protagonists of the competition were Hungary, a team that surprised observers with their unprecedented stable performance throughout the event.
HUNGARY finished third, behind ISRAEL who made yet another strong performance.
The first five teams from the Junior series qualified to represent Europe in the 2005 World Youth Team Championships. The other two qualifiers were NORWAY and FRANCE.