Poland once more and Germany at last!
Jan Moszynski & Jaroslaw Cieslak continued the fantastic record of the Polish players in the Open Championship, winning the 2001 European Pairs Championship by a comfortable margin.
Jan, 39, works in computers. His father competed in Sorrento in the Senior Pairs. Jarowslaw 37, is a father of three and a school teacher in history. They had a poor second session in the semifinal, but an excellent third session was just enough to qualify.
Italian pairs took silver and bronze, Leandro Burgay & Carlo Mariani finishing ahead of Dano De Falco and Guido Ferraro.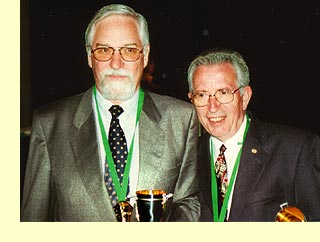 There was a tremendous finish in the Senior Final. England's Keith Stanley & Derek Rue and Germany's Hans Humburg & Goran Mattsson broke clear of the field and swapped places several times. With only four boards to play the English pair led by only four points and a strong finish by the German's saw them come through to capture the Gold Medals. In the two previous Championships they had gone into the last session as leaders only to fall away, so this was a very sweet victory indeed. Third place went to Roald Ramer & Jan Bomhof of the Netherlands.
• Click on the bar above for the Results and Daily Bulletins.
The 2001 European Pairs Championships took place in Sorrento, Italy from 19 to 24 March. They comprised the 11th European Open Pairs, the 6th European Senior Pairs and the inaugural European 'Bridge for All' tournament.
Sorrento is one of the most beautiful and well-known places in the world. From its privileged location participants and accompanying guests had the chance to visit the enchanting Sorrentina Peninsula, the Amalfi Coast, Positano, Capri, old Naples and the excavations at Pompeii.
The Championships were held at the Sorrento Palace Hotel which was also the main hotel. Rates had been arranged which were truly exceptional for the quality of the hotel. The Sorrento Palace Hotel is one of the most beautiful hotels in Sorrento; luxurious and comfortable, it overlooks the bay and one can admire the amazing view of Vesuvius directly opposite.
The Sorrento Palace Hotel contains the modern and well-equipped Congress Centre where the Championships take place. Those staying in the hotel simply had to take the lift down to the play area. Accommodation and play areas in the same hotel is ideal for convenience and to make the most of one's time. Of course Sorrento offers a wide choice of hotels of different standards.
In Sorrento the first experiment was made in 'Bridge for All' with a competition for all those bridge players who were not interested in participating in the championships but who nevertheless wished to enjoy something lighter and for pleasure. The 'Bridge for All' tournaments took place only in the evening so the participants could easily combine bridge, site seeing and recreation.